Health care delivery is continuing to experience unprecedented upheaval and disruption due to the COVID pandemic. If you are part of a system seeking to improve access to genetic health services during this challenging time, we can help. Please get in touch to learn more.
Starting in March, the number of patients accessing genetic health services and preventive care has steeply declined. One recent study, for instance, found that the number of screening exams for colorectal and breast cancer performed at 20 U.S. hospitals dropped by nearly 90% in April.1 According to leading genetic testing labs, test volumes were down 50% at the peak of the COVID crisis this past spring.2 And at Genome Medical, we experienced a temporary drop in genetic counseling and medical geneticist referrals from our hospital, health system and medical provider partners during this same period.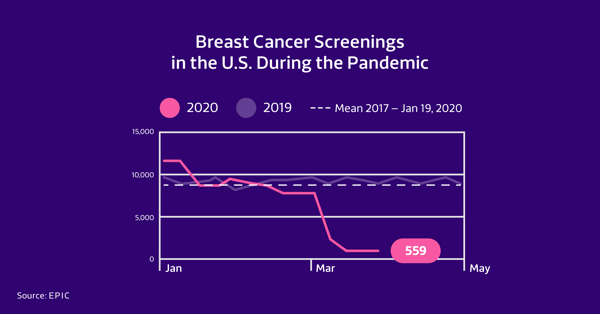 I find this really concerning. While it's understandable that patients have safety concerns about face-to-face services during the pandemic, these areas of care are extremely important for long-term health.
For some cancer patients, genetic testing and counseling can be essential for making potentially life-saving decisions about treatment options. While detecting high-risk genetic variants for cancer has been widely assumed to be valuable for their care, recent studies are providing data showing this clinical utility. For example, women who knew before a cancer diagnosis that they carried high-risk BRCA1/2 variants (and who chose surveillance over mastectomy) had better outcomes and better 10-year survival than BRCA1/2 carriers unaware of their genetic risk before diagnosis, according to a recent study.3
Genetic services are also crucial to determining diagnoses for patients with rare genetic conditions to optimize treatments and testing, provide better prognoses, and to help connect patients with experts and other resources related to the condition. And these services are important not only for cancer and rare diseases. Genetic health services have now become a standard part of care across many clinical areas, including cardiology, reproductive health, neurology, immunology/rheumatology and others.
The Way Forward
From a genetic health perspective, a few key principles can provide a framework for increasing services to meet the immediate and long-term needs of patients.
Use a well-designed triage system to put the highest-need patients first. Identify the patients who—based on diagnosis, medical or family history—have the greatest need for resources. Prioritize these patients for limited face-to-face or surveillance slots.
Facilitate services and screening for lower priority patients, as well; find ways to encourage these patients to schedule their mammograms, colonoscopies and other screenings as available and use virtual care to complete any genetic screening that can be done.
Don't wait for things to get back to normal; use the tools available now—such as telehealth—to bring patients back into the system.
Telehealth: The Time is Now
Even before COVID, consistent access to genetic services was sometimes difficult. For some health systems, the chronic shortage of genetic experts has led to staffing challenges and an inability to provide genetic services in major specialty areas. Getting to the specialists—many of whom work at major medical centers in large cities—can be inconvenient for patients in rural areas.
And while it's true that some health systems have quickly ramped up telemedicine for genetic care, others have not yet been able to, making the access gaps worse.
I came to Genome Medical to help transform the delivery of genetic health services in order to eliminate access problems and the resulting long appointment delays that still plague the health care system. Our service model is entirely virtual: we use telemedicine technology to offer secure phone and video appointments to patients across the country.
Fortunately, patients are increasingly embracing telehealth as part of their new normal. More than 80 percent of those who have used telehealth services say that they "liked" or "loved" the experience, according to a recent poll.4 Hospitals and health systems will see incredible benefits, too, including:
Expanded reach to deliver health care, particularly for rural areas where some medical specialists may not be available
Improved patient outcomes, particularly for outpatient care (e.g., chronic care, behavioral health)
Higher patient satisfaction as compared to in-person visits, demonstrated by patient surveys following telehealth visits
Improved clinical workflows, since wait times are limited and there are fewer patient no-shows
Higher revenue potential: Even with variable reimbursement, patients can be seen more efficiently and with less overhead costs than for in-person visits
Lower costs, since specialist telehealth consultations likely result in less time spent in the emergency department
Right now, and for the foreseeable future, telegenetics is exactly what's needed. Our clinical genetic experts have extensive experience with this service model; they provide rapid access to high quality, virtual genetic services in support of patients and health systems.
If you are part of a system seeking to improve access to genetic health services during this challenging time, we can help. Please get in touch to learn more.
References:
1. July 28, 2020—The number of screening exams for colorectal and breast cancer performed at 20 U.S. hospitals dropped by nearly 90% in April due to the COVID-19 pandemic, according to research published online July 27 in JCO Clinical Cancer Informatics.
2. Invitae quarterly earnings call, August 2020: https://www.fool.com/earnings/call-transcripts/2020/08/05/invitae-nvta-q2-2020-earnings-call-transcript.aspx
3. https://pubmed.ncbi.nlm.nih.gov/32644100/
4. https://theharrispoll.com/telehealth-new-normal-healthcare/