Last week, I had the distinct honor of addressing the United Nations General Assembly at UN Headquarters in New York City. This was the 5th International Day of Women and Girls in Science Assembly. After a full day at the United Nations, the clear highlight was the enactment of a resolution with member nations signing on to help achieve Equality in Science, Technology and Innovation for Socio-Economic Sustainable Development.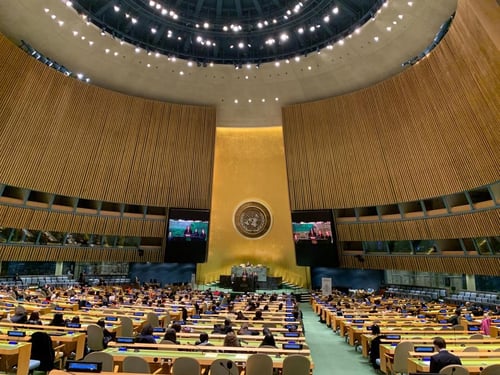 Resolution adopted: member nations sign on to help achieve equality in science, technology and innovation for socio-economic sustainable development.
This inspiring event was dedicated to "Investment in Equality in Science, Technology and Innovation in the Era of Digitalization for Sustainable Development". The Assembly was organized by The Royal Academy of Science International Trust (RASIT) in partnership with the Department of Economic and Social Affairs (DESA), the Republic of Malta and the International Chamber of Commerce (ICC). Support from the United Nations Conference on Trade and Development (UNCTAD), International Telecommunication Union (ITU), the World Intellectual Property Organization (WIPO), the International Labour Organization (ILO), and several Permanent Missions to the United Nations helped to make the day a success.
Distinguished speakers included leaders who understand that the future can be transformed through science, technology and innovation. This included:
His Excellency Mr. Tijjani Muhammad-Bande, President of the 74th Session of the United Nations General Assembly
Her Royal Highness Princess Dr. Nisreen El-Hashemite, Executive Director, Royal Academy of Science International Trust; Founder, Women in Science International League
Professor Mauro Ferrari, President of the European Research Council
Her Excellency Ambassador Joanna Wronecka, Permanent Representative of Poland to the United Nations
His Excellency Ambassador Andrew Wilson, Permanent Observer of the International Chamber of Commerce to the United Nations
Dr. Nata Menabde, Executive Director of WHO to the UN
Her Excellency Sarah Mbi Enow Anyang Agbor, Commissioner for Human Resources, Science and Technology; the African Union Commission
His Excellency Professor Dr. Milica Pejanović-Đurišić; Ambassador and Permanent Representative of Montenegro to the United Nations
His Excellency Ambassador Carlos Amorín, Permanent Representative of Uruguay to the United Nations
Her Excellency Ms. Adoracion M. Navarro, Under-Secretary of the National Economic and Development Authority of the Philippines
Her Excellency Ambassador Attallah Shabazz; eldest daughter of Malcolm X, Diplomat and Chief Strategist, Lecturer and Philanthropist
Ms. Camille Schrier, Miss America 2020, a biochemist
And a number of inspiring youth from Girls in Science 4 SDGs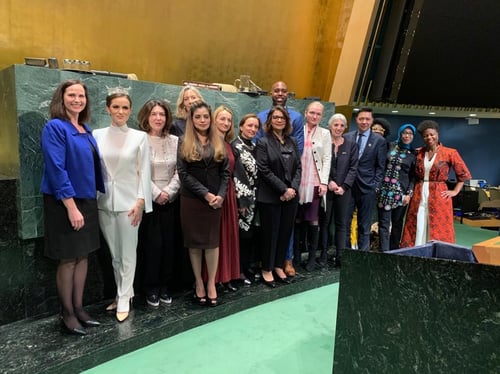 Distinguished Speakers at the United Nations International Day of Women in Science Assembly.
I was so proud to represent the Genome Medical team, and our important work, at the United Nations!
My speech is also included below:
Thank you, Your Royal Highness Princess Doctor Nisreen El-Hashemite and session speaker Ms. Khan.
Ladies and gentlemen, on this commemoration of the International Day of Women and Girls in Science, I am proud to stand before you as an entrepreneur, an innovator... and a global educator. Today, I want to share with you the power of genomics in protecting and advancing human health. This is an example of where investment today leads to a more sustainable future. May it provide inspiration and encouragement to the next generation of women starting their careers.
Genomics will be a cornerstone of how we deliver clinical care in the future. The company I founded, Genome Medical, is a leader in this transformation. This will improve patient outcomes and accelerate a path to value-based care.
Genomics is one of the most exciting advancements in the field of medicine. It affects all of us. We have approximately 20,000 genes in our genome. These genes contain our code of life and are a significant contributor to our health.
Up until now, our genomic information has been largely inaccessible. But this is changing. Within our lifetime, the vast majority of the world population will learn their genetic code as part of routine medical care.
Several forces are at work:
Technology is driving down the cost of sequencing.
The pace of scientific discovery is accelerating.
And the benefits for genetic testing are expanding.
This is truly an international phenomenon with large scale population genomics projects underway in the UK, Finland, India, Ireland, Bangladesh, China, Estonia, Qatar, Singapore, Canada, and the United States... to name just a few!
These programs will generate enormous databases of complex biomedical information to improve our understanding of disease. While TODAY scientific databases are unacceptably imbalanced toward those of European ancestry, it is gratifying to see initiatives underway all over the world to redress this and avoid a future of widening genomic health disparities.
So why is genomics important? We use genomics for prevention, diagnosis and treatment. It helps us develop new treatments for cancer, heart disease, brain disease, and rare genetic conditions. Let's look at the statistics...
Approximately 2.5% of all births have a complication resulting from genetics.
Roughly 1 in 10 people have a rare genetic condition, of which almost half are currently misdiagnosed.
More than 90% of people carry recessive conditions that may affect their children.
And over 80% of the population carries genetic markers that affect their response to medication. Some respond well, while others suffer from bad reactions; genetics helps to explain why.
All of this results in a major impact on health care costs.
With genomics, we can deliver the right care faster and reduce adverse drug response. This leads to more effective care at lower cost. It's an example of how investment in science, technology and innovation can drive sustainable economic development.
So why aren't we all using genomics today?
Unfortunately, disparities in access and gaps in clinical care are wide. We simply have too few clinicians who can keep up with the pace of progress in this field. Knowing who to test, what to test for, and how to interpret the results to guide follow-on care is complex.
There are not enough genetic specialists globally.
My company, Genome Medical, tackles these problems. We are a genomics technology and services company democratizing access to genetics care for all via telehealth. Genome Medical connects patients and doctors to genetic specialists, with easy to use tech enabled decision support tools and ready access to the best genetic testing laboratories in the world. We want to work with countries developing population genomics programs to bridge the clinical divide.
We have already helped thousands of patients with significant undetected genetic conditions, such as hypertrophic cardiomyopathy, a condition under which the first symptom may be a sudden cardiac arrest, or hereditary breast and ovarian cancer, where cancer can strike early. Through genetic insights, we can save lives.
This is what drives me. We need to bring these advancements into clinics around the globe, to help patients today, not just future generations.
The future of medicine includes telehealth and genomics. It also requires empowerment of women in science and medicine. As we celebrate Women and Girls in Science, we need to invest in education, encourage women and girls to enter STEM fields, and promote women leadership. We need women to reach their highest potential. This is how we will address some of the biggest challenges facing our planet. At Genome Medical, I am proud to have a workforce with 60% women. Every day, our team is working to enable the future of healthcare delivery. A world in which our genomic information is readily accessible and utilized throughout our lifelong journey to inform clinical care.
Together, we can open up access to precision medicine for patients everywhere. International collaboration to advance the medicine, science and technology driving the genomics revolution is an investment in more cost-effective clinical care. It is an investment in sustainable economic development and an investment in the betterment of humanity. This will touch many lives and save many lives, not just in my country, but in yours. Thank you.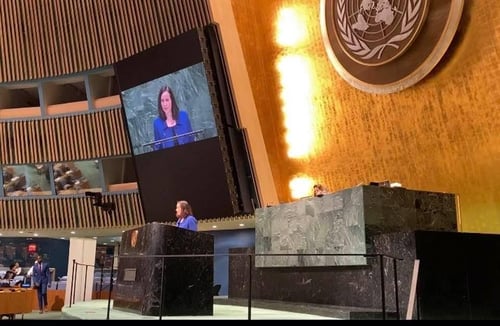 Ms. Lisa Alderson speaking about genomics and the future of healthcare at the United Nations General Assembly.