Employers have a 21st century problem: discovering, recruiting, hiring and retaining talent just isn't what it used to be.
It was not atypical to see baby boomers stay with the same employer for decades. However, the American workforce is rapidly changing. According to a 2018 Pew Research Center report, millennials have now become the largest generation in the labor force today (35% of Americans), followed by Generation X's (33% of Americans), and Generation Z's (5% of Americans). As the number of employed baby boomers dwindles and the number of employed Generation X's, millennials, and Generation Z's rises, employers have had to modernize their employee benefits and compensation packages.
Not only do employers jostle with competitors for proper product positioning, but they also have had to now compete with the entire industry in order to target, attract, hire and retain talented employees. According to the Bureau of Labor Statistics, the median number of years that those wage and salary workers between 25 and 34 years old have worked for their current employer is 3.2 years. It can be frustrating to hire and retain millennials and Gen Z'ers. They have been known to be patient and picky when choosing their employer and are less attached to their employer than baby boomers when faced with a competitive opportunity. It's an employee's market – and it's been that way for quite some time.
In order to reduce staff churn, employers must attract and retain top-level talent in today's job market. When potential candidates receive an offer, they spend their time considering every aspect of the offer, not just the salary. Employee benefits are one part of the offer that used to be overlooked but is now a vital element in a candidate's decision. In fact, according to a recent survey conducted by Harvard Business Review Analytic Services and League Inc, a health-benefits tech firm, 77 percent of respondents consider innovative health benefits as a key factor in a company's competitiveness.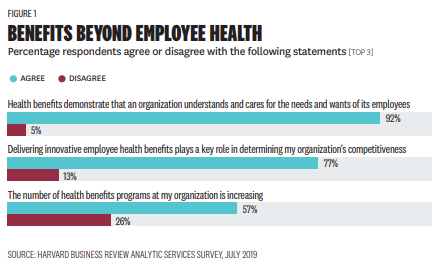 Here, we describe some cutting edge employee benefit trends that may help an organization stay competitive to recruit, attract and keep today's top-level talent. We then call out one specific benefit that is cost effective and valuable to the employer and the employee.
New Employee Benefits Trends
Some examples of these are helping pay student loans, offering health savings accounts, and letting employees customize benefits. Highlight some specific trends related to genetic testing and genetic counseling, if possible.
According to a 2019 SHRM Employee Benefits Survey, there were four main areas where employees want expanded benefits:
Family-friendly and wellness (e.g., flexible and health savings accounts)
Leave and flexible working (e.g., paid family leave)
Health care and health services (e.g., telemedicine)
Investment and retirement (e.g., help paying student loans to minimize student debt)
Future Trends in Employee Benefits
In order to stay competitive, companies need to offer more in their benefits plans than just health insurance and paid time off.
In the future, employers must also consider all avenues of an employee's livelihood. What affects an employee? How can employers maximize their reach by not only attracting top-level talent but also retaining those employees -- bolstered by high-level satisfaction via strong internal surveys and positive external Glassdoor and Indeed reviews? Some cutting-edge benefits that Fortune 500 companies have started offering their employers to improve their employee experience are mental health and life coaching, free happy networking happy hours, bring-your-pet-to-work days and pet bereavement. These are aside from what has become a typical suite of benefits, such as gym-reimbursement and entertainment discounts.
However, one of the most cost-effective benefits that has the potential to deliver a long-term impact has been to offer genomic wellness programs as part of their health plans. These genomic wellness programs fall under the health care and health services umbrella. Specifically, HR departments have looked toward health and wellness benefits to provide utility to all employees in a cost-effective and valuable manner. According to a 2017 study by Merritt Hawkins, it now takes an average of 24 days to schedule a new patient physician appointment in 15 of the largest cities in the U.S., up from 18.5 days in 2014, 20.5 days in 2009 and 21 days in 2004. This significant increase in wait times has led to employees requesting that their employers include urgent care facilities and telemedicine as necessary, covered benefits to support easier access to medical professionals, particularly specialists. As health care costs continue to trend upwards, employers must always be on the lookout for emerging benefits that are not only engaging and resonate with their employees, but also are cost-saving and expect high utilization.
Telemedicine has continuously ranked as one of the top benefits that employees have requested and has consistently showed effective cost-savings. The rising use of telemedicine has caused more employers to add it as a covered service, which has boosted employer profiles and rendered their benefits package as unique. As a result of this robust upward trajectory, employee benefit plans have become more well-rounded, resonating well with the majority of employee health needs and contributing to a high level of employee satisfaction.
Genomic Benefits Offerings
Health and wellness departments are trying to find new ways to help their employees live healthy and vibrant lives, while keeping costs low.
According to the National Business Group on Health, health care costs for employers are expected to top $15,000 per employee in 2020. In addition, nearly 1 in 2 Americans will suffer at least one type of chronic condition by 2030.
To counteract these and other rising costs in health care, employer HR departments have now looked toward innovative health and wellness benefits to provide utility to all employees in a cost-effective and valuable manner.
According to MetLife's 17th Annual U.S. Employee Benefit Trends Study, 38% of respondents placed genetic testing as an emerging benefit that interested employees the most. With companies like 23andMe and Ancestry leading the way, more employers are utilizing genetic tests and genomic health advocacy as strong tools to aid in lowering health care costs. However, navigating the broad genetic testing landscape can be daunting and understanding DNA, genetics and the risk for disease is difficult for most people to understand. Telegenetics (also called telegenomics) is a combination of telemedicine and genetic testing.
Furthermore, recent data has shown that performing population health genomic screening via genetic testing and having workers who are more aware of their genetic risk for certain diseases based on family history provides several benefits such as preventing life-threatening illnesses. For employers, it can help them create goodwill with their employees and potentially save self-funded health plans more than $1 million.
In short, integrating genetic testing and telegenomics into an employer's health and wellness program helps retain top-level talent, brings goodwill and employee delight and lowers overall healthcare costs, effectively minimizing stop loss.
Genome Medical is a nationwide genomics medical practice that provides access to genetic experts to guide improved health and well-being for individuals and families. To learn how Genome Medical can help employers lower health care costs and seamlessly integrate genetic wellness into health and wellness programs, visit https://www.genomemedical.com/employers/.