As the pandemic continues to challenge all of us, we've been giving a lot of thought to how health systems, hospitals and providers can guide patients back for genomic care. We have identified five key steps that we believe provide an excellent framework for ensuring that patients get the genomic care they need.
1. Reach out to patients. Focus on safety and re-engagement. As areas reopen on varying timelines, it can be confusing for patients to keep up with what services are being offered and how risk is being managed. Let them know what new protocols -- regulated patient intake, waiting room and office adjustments, cleaning, mask wearing, etc. — you've put in place to keep them safe.
Also, consider this an opportunity to reconnect with your entire patient population, and offer them options. For example, a new service like our Genome Care Navigator gives patients a virtual way to initiate their genetic journey through video-based, self-guided education and informed consent. Where genetic testing is recommended, you have now opened the door to additional engagement with the patient and/or their families.
2. Serve your highest-risk patients first, while identifying alternative care pathways for patients at lower risk. Depending on your staffing and patient population, you might direct internal resources to the highest-need patients, while collaborating with a telehealth provider like Genome Medical to care for those at lower risk.
3. Build for flexibility. If there's one thing 2020 has taught us, it's to expect change. For the foreseeable future, patient volumes are likely to continue going up and down, which means that staffing requirements will keep changing, too. It's important to develop a system that can adapt to shifting demand. Telegenetics fills this bill well.
4. Remove the obstacles to telemedicine. Due to the pandemic, more people than ever have had virtual visits with their health care providers. A McKinsey survey found that nearly half of consumers had tried telehealth as of late April, up from only 11 percent the previous year.[1] Indications are that they like the experience: 60 percent of consumers say that COVID has increased their willingness to try telehealth in the future.[2] Convenience, as well as safety, are cited as big reasons for the positive perceptions. What's more, telehealth offers the advantage that family members in different locations can be together for an appointment with a genomic care provider.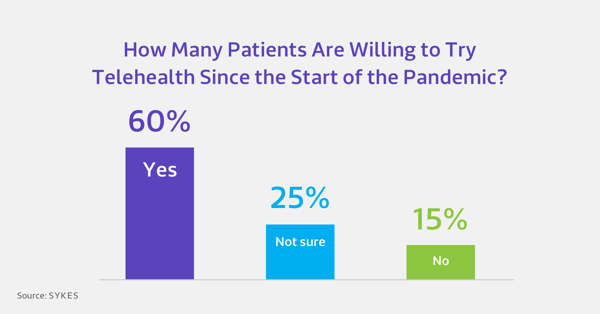 5. Find the right partner. Whether your organization seeks to create new telegenetics care programs or fine-tune existing ones, Genome Medical can help. Our clinical genetics expertise combined with our technical innovation can help rapidly solve the access problems that still plague our health care system -- and handle any number of reopening and expansion scenarios faced by our partners.
Our team delivers genomic care on an entirely virtual basis, with best-in-class genetic experts across multiple specialty areas. And they work within our Genome Care DeliveryTM platform, which provides an efficient end-to-end solution that navigates patients through all aspects of genetic health service delivery: engagement and education; risk assessment; appropriate test recommendations; test ordering, authorization and logistical support; return of test results; and integration of results into ongoing health management through personalized clinical care plans.
What's more, we also offer strategic advisory services for designing and developing precision health programs that can engage patients, improve health outcomes and build for the long term.
Interested in working with us? We'd be happy to talk. Please get in touch.